USA är ett konstigt land, men vill man uppleva storslagen natur så är det ett hett resmålstips. Jag hade bara varit hemma från Dolomiterna i ett par veckor när det alltså bar iväg igen, för min del för fjärde gången (2, 3), till de förenade staterna. Tanken var att vi först skulle åka till Botany-konferensen i Tucson i Arizona, för att sedan bila runt i Kalifornien och titta på rosväxter. Vi flög från Bergen till Köpenhamn och därifrån till San Francisco. Jäkla tur att vi hade fyra timmars väntetid i SF, för det tog sin lilla tid vid gränskontrollen. Vid gaten till Tucson träffade vi Elena, vilket var väldigt trevligt. Det började dock kännas att man varit vaken länge (sov nog inte mer än en timme mellan Köpenhamn och SF). I Tucson var det varmt, nästan så det brändes, och då var klockan ändå nästan tio på kvällen. Konferensen skulle vara på en resort väster om centrum, där vi också skulle bo. När vi steg ur taxin stod Pamela och Doug Soltis där, som jag, tack vare att Torsten och Elena kände dem, fick skaka hand med. De är riktiga kändisar inom växtsystematisk forskning.
Mycket sömn blev det inte, för strax efter klockan sex på morgonen var jag nere i foajén för att åka på en av de utflykter som erbjöds innan själva konferensen skulle starta. Det är ju så i det där landet att det finns väldigt mycket privat mark och ingenstans gäller någon allemansrätt. Flera gånger under resans gång kom vi att springa på Private Property – No Trespassing-skyltar, och med tanke på att en stor del av folket äger vapen är det ingen varning man struntar i. Denna utflykt gick till en av alla 500 000 Tucson-bos privata ägor söder om resorten. Hon verkade väldigt trevlig och vettig, hon hade till och med testamenterat sin mark till kommunen. Tucson ligger i Sonoraöknen, känd för de stora saguarokaktusarna (Carnegiea gigantea), och att befinna sig bland dessa kändes nästan overkligt. Det är ett landskap jag tidigare bara sett på TV, men nu fick jag uppleva det på riktigt. Allt var nytt, och det var svårt att förstå amerikanskt uttal av de vetenskapliga namnen. Turligt nog fick vi med en lista på alla växtarter som observerats där. Men inte nog med att arterna var nya, jag fick lära mig den hårda vägen att många av dem ska man inte peta på eller ens försöka gå nära, eftersom de har taggar och tornar som kan göra riktigt ont. Supercoolt.
Jag har mestadels använt mig av iNaturalist för att ta reda på vad det är jag fotat, men jag är inte 100% säker på att jag fått rätt namn på alla arter. Ser ni några fel blir jag gärna rättad. Nedan följer ett urval av de 226 växter, 77 djur och två lavar jag har på min lista.
På eftermiddagen åkte jag med Torsten och hans gamla bekanta, Emily och Zach, via Catalina Highway upp på Mount Lemmon. Det var slingrigt värre. Ju högre vi kom desto mer sjönk temperaturen, och tillslut var det riktigt behagligt. Allt var fortfarande nytt, men här var det inga taggar man behövde akta sig för.
Det mest fantastiska under hela dagen var då vi stannat för att se på solnedgången och nattljusen öppnade sig. Det gick så fort att man kunde se det med blotta ögat. Direkt kom det ett gäng svärmare och började suga nektar.
Vi var uppe tidigt nästa dag igen och tog en tur till Madera Canyon, ca en timmes bilfärd söderut. På vägen fick jag se skymten av en större tuppgök (Geococcyx californianus), alltså en sån där fågel som blir jagad av prärievargen i Looney Toones. Botaniktempo är ju inte känt för att vara den snabbaste takten precis, men vi gick så långt vi hann på Old Baldy-stigen och Vault Mine-stigen. Där fanns mycket kul att titta på, särskilt den röda fingerörten (Potentilla thurberi). Och så många ödlor!
På eftermiddagen hade jag anmält mig att följa med på utflykten till Arizona University. Vi fick se herbariet, avdelningen för dendrokronologi och arboretet. Herbariebyggnaden, Herring Hall, var den näst äldsta byggnaden på campus, som stod färdig 1903. I början var det en gymnastiksal, och därför hade de satt upp en basketkorg i entrén. Besöket hos dendrokronologerna var riktigt tufft, jag hade aldrig hört talas om den vetenskapen förut. Att räkna årsringar visste jag naturligtvis att man kan, men inte att man kan koppla ihop dem mellan olika träd och få tidslinjer längre än deras enskilda livstid!
På måndagen började själva konferensen, men innan dess följde jag med på en tidig-morgon-växtpromenad i området runt resorten. Till min förvåning kunde guiden inga vetenskapliga namn. Han var visst mer guide än botaniker, men kunde en hel del om områdets ekologi och växternas fysiologi. Vi fick till exempel lära oss se tecken på de olika saguaroindividerna om de står på en plats med tillgång till mer vatten eller sol än sina grannar.
Resten av dagen var fylld med föredrag och på eftermiddagen var det postersession, där jag presenterade min forskning. Däremellan hann vi med att närvara vid en riktigt nördig lunch tillsammans med några andra medlemmar i en facebookgrupp för botaniker som handarbetar. Jag var helt slut på kvällen, men det hade varit en trevlig och lärorik dag. Likaså var tisdagen, och på kvällen fick jag tillfälle att gå stigen vi gått dagen innan, men nu i lite mer lugn och ro. Jag stampade hårt för att slippa överraska, eller bli överraskad av, någon skallerorm. Kaktusgärdsmygarna lät sig inte skrämmas för mycket, de höll sig på avstånd men det var ett väldigt tjatter från dem.
Föreläsningarna fortsatte på onsdagsförmiddagen, men istället för att gå på de sista på eftermiddagen åkte jag med Torsten, Lena och Kathy till ökenmuseet (Arizona-Sonora Desert Museum). Det var ett häftigt ställe med både levande djur och växter. Några vilda och några (för säkerhets skull) inhägnade. Har man vägarna förbi rekommenderar jag verkligen ett besök!
På torsdagmorgonen var det dags att säga hejdå till gamla och nya bekanta. Vi delade taxi med Elena igen, och när vi skiljdes åt vid incheckningen på flygplatsen sa hon "You're good." En kommentar som fick mitt självförtroende att klättra några pinnar på stegen. Efter mellanladning i Salt Lake City landade vi sen eftermiddag i San Francisco igen. Vi hämtade ut hyrbilen och körde till Berkeley, öster om SF, där vi skulle bo över helgen.
Fredagen tillbringade vi på Jepson-herbariet i University of California Berkeley för att ta ut lån av växter till vår forskning. Herbarier är för mig som kyrkor är för religiösa personer. De är helt ovärderliga. Till exempel, inom fingerörterna finns de tre väldigt lika arterna Potentilla norvegica (norsk fingerört), P. biennis och P. rivalis. En bildgoogling gör dig inte så mycket klokare, men nu med nyckeln i en hand och luppen i den andra, var det ganska klart vilken som var vilken.
Hela lördagen var vi inne i San Francisco. Vi gick en bra bit, ända från Embarcadero strax norr om Bay Bridge, förbi Fisherman's Warf och bort till Presidio of San Francisco, parken vid Golden Gatebron. Sist jag var i SF var jag nio år. Jag minns backarna, spårvagnarna, Alcatraz och en butik på Fisherman's Warf där jag köpte snäckor. Den butiken fanns faktiskt kvar, såg jag. Yr hade sagt mulet, så jag tog inte på mig någon solkräm. Sen blev det ganska varmt ändå och jag gick nästan hela dagen i bara t-shirt. Mot kvällningen insåg jag mitt misstag. Den där brännan sitter fortfarande kvar och lär göra det en bra tid framöver också.
På kvällen åt vi middag på Gaumenkitzel i Berkeley. Jag tog deras crispy pan fried veggie cake och det var något av det godaste jag ätit. Rekommenderas varmt, alltså.
På söndagen hittade vi ett café där vi satt och jobbade en stund. Jag annoterade DNA-sekvenser och Torsten läste om ett analysprogram.
På måndagen sade vi hejdå till Berkeley och började vår färd runt bergskedjan Sierra Nevada. Det var ingen liten runda, vi var iväg i över en vecka. Många fina vyer blev det och artlistan växte sig stadigt längre.
Från Isabella Lake rörde vi oss norrut igen mot San Francisco. Vi tog dock en avstickare till Sequoia National Park, där jag var med familjen för 20 år sedan. Jag är så glad att vi hann med att åka dit igen.
Tillbaka i San Francisco så lämnade vi tillbaka bilen på flygplatsen, Torsten åkte hem och jag tillbringade ett par dagar till på herbariet i Berkeley. Första kvällen promenerade jag bort till rosträdgården.
På fredagskvällen förflyttade jag mig till San Francisco, för att på lördagen besöka det naturhistoriska museet California Academy of Science och ta en närmare titt på Golden Gatebron. Ett dagskort för lokaltrafiken kostade endast fem dollar!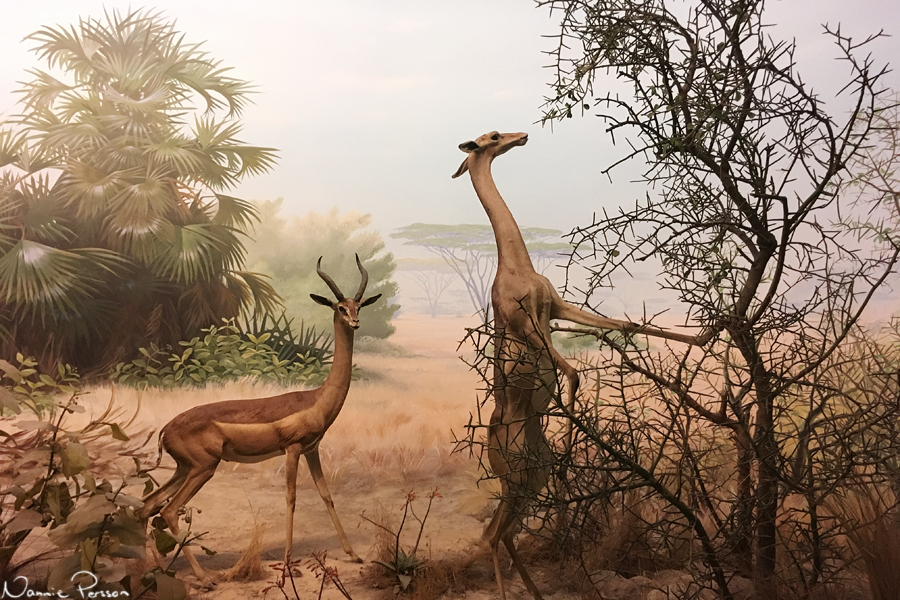 Och där tog resan slut. På söndagen köpte jag mig lite dyrt snacks och väntade på flyget till Köpenhamn på den tråkigaste terminal jag någonsin varit på. Till och med Skavsta har bättre utbud av mat och onödiga souvenirer.
Att resa gör en alltid lite klokare. Jag har lärt mig massor av nya växter och djur, träffat väldigt trevliga människor och vuxit lite i mig själv.