Ibland har man en sån där bra hårdag. Då blir man lite gladare. Går och längtar tillbaka till den molekylära cellbiologin… Genetik känns inte riktigt som min grej. Fast jeans and chromosomes var kul.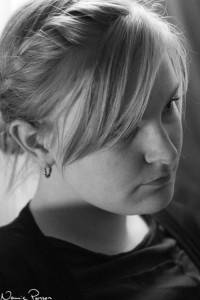 I helgen hände det mycket. I lördags var jag på megaloppis/skivmässa i Solna. Var 150 personer i kö när jag kom tio minuter efter att de öppnat, men eftersom de bara tog jämna pengar i inträde gick det väldigt fort att komma in. Började med skivorna och hittade mycket fina exemplar av Peter Gabriels SO (planerar visserligen att ärva pappas exemplar, men det hoppas jag ju inte händer på väldigt länge och då behöver jag en egen under tiden) och Mike & the Mechanics Living Years för bara 20:- styck. Köpte även en kapsylöppnare i metall i form av en fågel samt två hemliga julklappar! När jag kom hem var jag helt slut; fingertopparna värkte av allt skivbläddrande och huvudet bultade av den ständiga koncentrationen efter jakten på fynd.
Igår fotade jag Sandra och hennes hund Affie, en vit herdehund. Mycket stor och vacker hund. Sandra hade dessutom lärt henne en massa tricks, typ öppna soppåsen för att få godis (riskaka).